Oh my goodness, are you ready to look at a LOT of photos?!  Ari & Josh's wedding at Camp Cody was SO FUN, I just need to share a bunch of photos to show you how fun it was, so brace yourselves!
The girls getting ready  – that's Ari there in the curlers ;)
Just a little excited ;)

Some portraits with the ladies before the festivities get started
 Photo by my lovely assistant, Cristen Farrell
Such a natural beauty!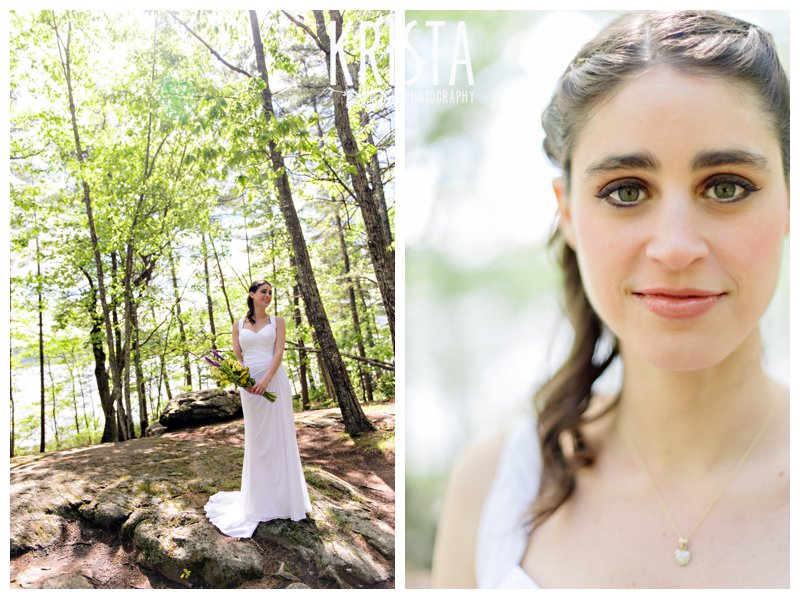 Meanwhile, my fantastic second shooter, Matt Grazier of Grazier Photography was having some fun with the guys…
I love the Bride's reception and the Bedeken!  Definitely my favorite part of the day at every Orthodox Jewish wedding!
LOVE this shot Matt captured of Josh coming from the Tisch to see his bride!
 And Matt's shot of the women seeing him coming – so much excitement!
This explains why my legs hurt so bad the morning after shooting a wedding!
LOVE these moments!
Matt's perspectives during the Ketubah signing…
My view of the Ketubah signing from the other side of the table
Once the Ketubah was signed, everyone headed to the other side of the camp for the ceremony!  It had to be moved indoors because it was so unseasonably cold that day!
 In a traditional Jewish, the bride would circle the groom, but for this wedding they circled each other.
Cristen's view of the kiss
 RUNNING out the door!
An entertaining Bridal Party is a must!
 "Hey guys, just go over there and hang out and enjoy being married for a minute!"  This is what they gave me… :)
This one was a little less silly, a little more sultry… so versatile, these two!
Ari was freezing, but she still managed to look gorgeous in the setting sun by the lake!
A few moments out of the wind to wrap up our portraits!
Then it was off to the reception, where the dancing was nearly endless!!!
Cristen captured these amazing moments!
This one explains my shoulder pain…  This job is hard work!!  This also captures some of Josh's awesomeness :)
The band had to shut down the music and practically beg everyone to sit down for dinner, haha!  But they were happy to listen to some great toasts!
Then is was back to the dance floor!!  Where are the finger pointing moves from the engagement session, I ask you?!
More Josh awesomeness…
A little late night toast by the bridesmaid who introduced them!
And a parting shot of the beautiful night sky above the tent!  What a great night for a wedding!
Big shout out to these Vendors who made the day so fantastic!
Venue:  Camp Cody
Invitations:  Lila Fagen
Rings:  Stowe Gems Jewelry
Wedding Gown:  David's Bridal
Men's Attire:  Shirts  were all individually made and tailored by the groom's friend in India
Band:  Shirim Klezmer
Ketubah:  Ketubah.com
Ari & Josh – thank you for inviting us into your lives, and into this wonderful day!  We have had a blast working with you!!!!!  xoxo
To see more of my favorites from this wedding, check out the album on Facebook!