Oh yeah, this was SUCH a great engagement session!!!  I met up with Ari & Josh in New Hampshire at Camp Cody on Lake Ossipee, where they would hold their wedding a few months later.  It was such a beautiful and FUN place to shoot!   They brought their dog with them and we tromped all over the campground taking pictures, splashing in the water, jumping over logs, dancing in the woods, and leaping out of canoes. This may be my favorite engagement session ever :)
To start off, they're gorgeous, and Ari's dress is fabulous!
Haha, the pup couldn't resist the lake!
Oh, not only are the beautiful… they are TOTAL goofballs!!!  Woohoo!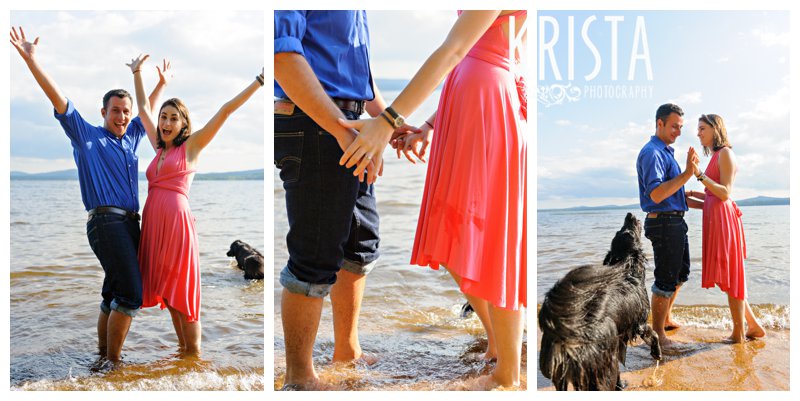 Isn't this place lovely?!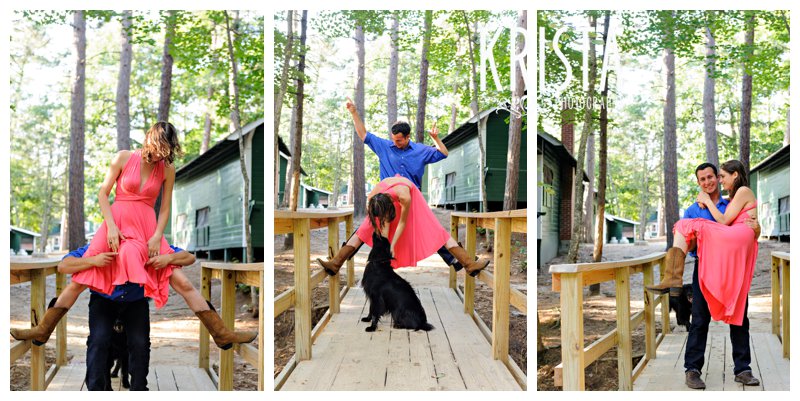 Then it was time for a little costume change and an all-wine picnic :)
Then it was time for our favorite part of the day!  The part where they get in a canoe and recreate their engagement on Phewa Lake in Pokhara, Nepal… and then jump out of the canoe!
It's not the Himalayas, but it will certainly do!
Get ready!  We're gonna do it!
Even the pup knew what to do :)
The poor dog was just panicking, wanting to be with them but having a hard time swimming for so long!  He kept getting out, running back down the pier and jumping into the water again!  He just loves them so much, he had to be with them!!
I'm surprised I didn't see more of this dance move at their reception… ;)
Not a bad way to the end the day!
See?!  Wasn't that awesome?!  Ari & Josh – you guys are the best!  Thank you for being so fun to work with, and such a joy to photograph!
Head on over to Facebook to see more of my favorites!