Inspire.
It started out as an idea… What if there was a conference that felt more like a community?  What if instead of flying around the country to hear people from California talk about running their businesses, we gathered photographers from right here in New England and asked them instead?  What if we did it ourselves?  These are the questions that Matt & Enna Grazier asked a few of us, as we all looked at them as if they were nuts.  Brilliant.  But nuts…  If it had been my idea, it probably would have stayed an idea, but the Grazier's are people of action, and thank God for that!
What began as an idea, a question, grew into a real life conference we called Inspire Boston.  What was an incredible and inspiring two days in Concord with 100 photographers, grew to something more the next year… Inspire Boston 2011.  We added mentoring sessions, shooting workshops, and a vendor lounge and this time 125 people came from all over New England and beyond!
So, here we are, 3 years later, and it's just 12 days until Inspire 2012 kicks off!  This year, we've changed the name from Inspire Boston to Inspire Photo Seminars – since it's really not just about Boston anymore.  We've moved it to the Sturbridge Host so we could have a bit more space and be a little more centralized for our primarily MA/CT attendees.  We've got 18 Speaking Sessions, 8 Special Classes (shooting session, portfolio reviews, etc.), a special pre-conference all-day Pictage + ShootQ Bootcamp, an even bigger Vendor Lounge, a mid-conference party with KARAOKE (clearly that was my idea!), one-on-one and roundtable mentoring sessions with the speakers and sponsors, and a killer Wrap-Party at the end!  It is going to be a JAM-PACKED couple of days!!!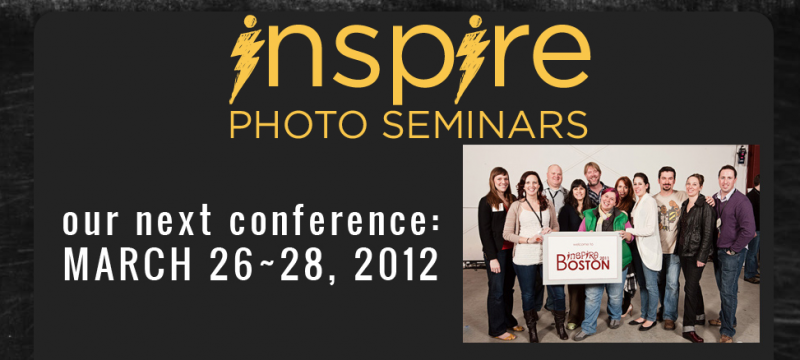 I'll be speaking at Inspire this year on Facebook Marketing Strategies.  If you follow my blog, you've probably liked my Facebook page as well (and if not, what's stopping you?!).  And if you follow both, you've probably noticed that I post on Facebook WAY more often than on here.  Facebook just makes it so EASY for me!  It has dramatically changed and grown my business over the last 3 years.  Last year my weddings doubled from the year before, and this year I'm almost entirely booked up for the year already!  I give most of that credit to how I share images and communicate via Facebook – but I guess I'll give a little of the credit to my photographs too, yeah? ;)  I've been super excited to share my Facebook strategies and theories with the Inspire community, and wouldn't you know it, Facebook went and changed everything about their business pages three weeks before the conference!  So, I'm reworking my talk and trying to learn as much about all the changes as possible, and now I'm even more excited :)  I mean, what better time to talk about how to set up and use a Facebook page than right when everything about them has changed and everyone's wondering what to do?!  OK, so I'm excited and also a little overwhelmed, but I do think it's an exciting time to be sharing about this and I'm hoping that it will be really beneficial to everyone to comes to my talk!
If you're a photographer, and you aren't signed up for Inspire yet, what are you waiting for?! It's going to be FUN!  You're going to meet a TON of awesome local photographers who may just become your nearest and dearest friends (I've gone on vacation with ladies I met at Inspire, and don't get me started on how much I love the Planning Team).  You're going to LEARN something new!  You're going to leave feeling INSPIRED and EMPOWERED to make some great changes in your business and maybe even in your life.  It's not too late to sign up and come be a part of it all!!  I've got a $50 off discount code that is good for the first 3 people who use it!  Go HERE and use the code KRISTAPHOTO2012 to get $50 off your registration!  I hope you can come!!!