You may or may not know that for the last 2 years, I've been part of a small group of photographers who have planned, organized, and put on a local wedding photography conference called Inspire Boston.  The first year was awesome, and this year's was even better!  The whole conference is based around the concept of peer-to-peer mentoring and the idea that as we build relationships with one another and our community grows stronger – we'll all become better photographers and business owners.  It was an intimate conference of just 125 people, and we held it at Concord's Colonial Inn which gave the whole thing a very cozy and New Englandy vibe.   There were a handful of great (mostly local) instructors for presentations, shooting workshops, and mentoring sessions.  We also scheduled in tons of free time so that even more learning, inspiration, and encouragement could happen in between the formal class times.  And this year we added in Vendor Lounge so that people could connect with some of the industry and the area's best vendors.  All in all, it was pretty fabulous!
Between preparing for my presentation and organizing all the logistics – I didn't take too many photos for those three days!  But here are a few of my favorites from the last day of the conference…
My fabulous assistant, CoCo Boardman shot a few images during & after my presentation with Enna Grazier.  Our presentation was on Creating a Sustainable Brand.  It went really well, which was exciting, and also a huge relief!
It was especially cool talking with people after the presentation, hearing their feedback – but also watching people talking and brainstorming together.  People seemed really inspired to figure out who they really are, and what they want their business to be.  Love it!
Later that night we had a Wrap Party at LensProToGo complete with pizza, raffle prizes and a very fun ring light to play with :)  I loved this shot CoCo got of me!
Tabitha looks like she's singing a sad song…  I love her :)
that's tougher than it looks, eh Larry?
dude, CoCo's mean!
aw, Paul & Krystal :)
Here's a shot of the whole crowd at the Wrap Party (courtesy of Raw Photo Design)
And the "Dream Team" who planned & organized the event:  CoCo, me, Mark Higgins, Krystal & Paul McNerney, Carla Ten Eyk, Candice Coppola, Diana Chouinard, Matt & Enna Grazier (the masterminds behind the whole thing), and Richard Esposito.  What a blessing it's been to work with these lovely people!!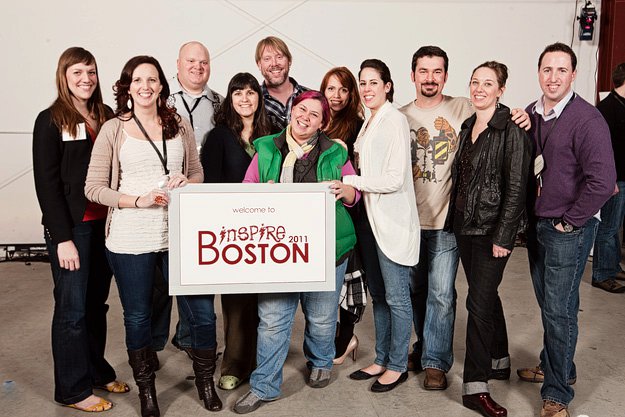 After the wrap party, came the best part, really – the AFTER PARTY!  A bunch of us went back to the Inn for a concert by Jimmy Mazzy & Friends – the most fabulous little old jazz band in the world.  Oh, they were soooo fun!!!  And they play every Wednesday night at the Colonial Inn, if you ever want to check them out!!
Gid.  He's my favorite!
The Incredible Mr. Jimmy Mazzy!
I had to show Gid how to use his camera on his phone, but once he figured it out, he couldn't put it down!
see, he's just delightful :)
Thanks again to everyone who participated in Inspire Boston 2011!!!!  I had a great time, and am already excited for next year!  We've already begun planning for 2012 so stay tuned for details coming in the next few months!!
If you'd like to view more of my images from Inspire Boston, check out the album on Facebook.